Think Pink
Roughly 85 Hoosiers are diagnosed with new cases of cancer every day...
Breast cancer is the second leading cause of cancer death and, excluding skin cancers, the most frequently diagnosed cancer among U.S. women – affecting one in eight women.
An estimated 4,400 Hoosiers were diagnosed, and 889 lives were lost as a result of breast cancer, during 2011.
Breast cancer is rare among men; however, because men are prone to ignoring warning signs, they are often diagnosed at later stages and have poorer prognoses.
Breast Cancer Awareness Videos
Think Pink for the Cause Events: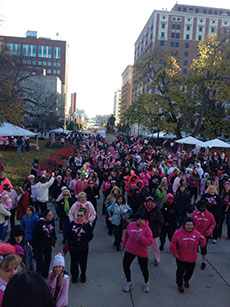 National Cancer Survivors Day
June 1st
PCH/FMC Sponsors Cancer Survivors Party.
June 2nd, 1-3pm @ PCH/FMC
Live from the P.I.N.K. Carpet Fashion Show
June 12th, 6:00pm @ Indiana Theater
Annual Golf Outing to benefit P.I.N.K. of Terre Haute
June 20th, 11am Lunch - 1pm Tee-off @ Idle Creek
Annual P.I.N.K. Party to benefit P.I.N.K. of Terre Haute
June 21st, 7 -11pm @ Bogey's Family Fun Center
#ThinkPink for Breast Cancer Awareness on Instagram