Breast Cancer Awareness Month:
One in eight women will be diagnosed with invasive breast cancer within their lifetime; it could be your Mother, Sister, Grandmother, Wife or Friend.
During the month of October 100.7 MIX-FM and X95.9 are teaming up with businesses to promote breast cancer awareness in Terre Haute and throughout the Wabash Valley.
Below you will find a full list of events to participate, videos, facts and great ways for you to get involved in the fight to eradicate this disease that has affected us all.
Breast Cancer Awareness Videos
Think Pink for the Cause Events: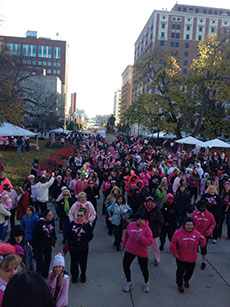 Making Strides of Evansville IN
Eastland Mall
10/19/2013
Making Strides of Indianapolis, IN
Celebration Plaza in White River State Park
10/26/2013
Making Strides of Bloomington, IN
Bryan Park
10/12/2013
More Making Strides regional events are available here
Proud Sponsors of Think Pink:
Simple to Elegant
Sycamore Terrace Super Shine
Vigo Dodge
Saratoga
Advantage Plus of Indiana Federal Credit Union
Mic's Pics
Tatem and Associates
ISU Credit Union
Honey Creek Animal Hospital
Eldred Moving
#ThinkPink for Breast Cancer Awareness Month on Instagram