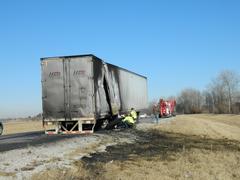 A semi-truck fire Thursday afternoon around 3:00 on I-70.
Indiana State Police troopers and Riley Fire/Rescue say that it happened in the eastbound lanes near the 12 mile marker. Police say that the truck developed a trailer brake fire that quickly spreading to the contents of the trailer.
The driver, 48-year-old Jorge A. Ramirez of Battle Creek, Michigan attempted to put out the fire with his fire extinguisher, but could not.
There were no injuries reported and eastbound traffic was slow in the area for about one and half hours. The truck was loaded with cardboard from Evansville, and headed to Battle Creek, Michigan.