« back to Movies
Monsters University 3D
Release Date: June 21, 2013
Genres: Animation, Comedy
Cast: Billy Crystal, John Goodman, Steve Buscemi, Dave Foley, Julia Sweeney, Joel Murray, Peter Sohn
Directors: Dan Scanlon
Official Site: http://www.disney.com/MonstersUniversity
Distributor: Walt Disney Pictures
Ever since college-bound Mike Wazowski was a little monster, he has dreamed of becoming a Scarer-and he knows better than anyone that the best Scarers come from Monsters University (MU). But during his first semester at MU, Mike's plans are derailed when he crosses paths with hotshot James P. Sullivan, "Sulley", a natural-born Scarer. The pair's out-of-control competitive spirit gets them both kicked out of the University's elite Scare Program. To make matters worse, they realize they will have to work together, along with an odd bunch of misfit monsters, if they ever hope to make things right.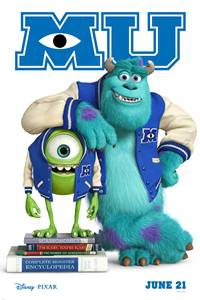 Show Times / Buy Tickets
There are no current showings for Monsters University 3D in this area.