« back to texting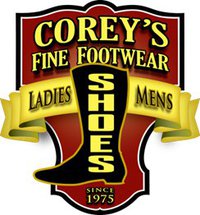 Corey's Fine Footwear
Corey's Fine Footwear located in the Historic district of Downtown Terre Haute, Indiana was established 35 years ago in 1975. The joy of buying your shoes from Corey's Fine Footwear creates an image of self esteem and a respect for Quality and Style. Though our building is circa 1800's and is on the Historic Calendar, our old fashion customer service and respect, continue unabated. Enjoy having your feet checked and measured by a cadre of professional shoe fitters, after all, no two feet are the same... So come in and take a step back in time, see what the glory of a real old fashion shoe store is like! You won't be sorry!
Contact Information
515 Wabash Ave
Terre Haute IN 47807
812-232-2628
---
*Message & data rates may apply. Text STOP to quit. Text HELP for help or call 877.571.0774 for support. To opt-out of alerts, text KEYWORD and STOP to 24609 (Ex. STOPWEATHER). Subscribers will receive no more than twenty messages per week when subscribing to any of our Alerts or Offers. No purchase necessary. Marketing text messages will be delivered to the phone number you provide at opt-in.
Approved carriers for texting 24609 are: Verizon Wireless, T-Mobile, Sprint/Nextel/Boost, AT&T, U.S. Cellular, Cellcom and Element Mobile. Sprint users may need to call their customer service representative to have the short code functionality activated on their cell phones. For questions or support, please call 877.571.0774.