« back to texting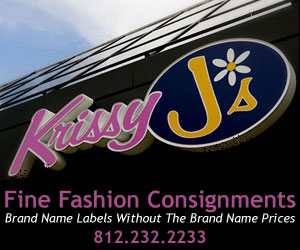 Krissy J's Fine Fashion Consignments
Hi my name is Kristin. I started Krissy J's Fine Fashion Consignments for so many reasons. My grandfather actually came to me with the idea. I have always had a love for fashion and working with people so it seemed like a good fit. Also with the economy in the condition it was, a resale shop seemed like a good idea. Not only is it good for the consignors to make money, but we also carry quality products at reasonable prices for almost everyone. Krissy J's opened in August 2009 in the Meadows Shopping Center. In April 2013 we re-located to Southland Shopping Center. With a larger space, we still specialize in consigning ladies clothing, shoes, purses and costume jewelry as well as men's clothing and small home décor. We also added some booths full of anything from antiques to homemade goodies. We also offer a petite section, women's section, formals, designer handbags and much much more. My staff and I have a great time working at Krissy J's and we hope you have a great time shopping here.
Contact Information
59 Southland Shopping Center
Terre Haute IN 47802
812-232-2233
---
*Message & data rates may apply. Text STOP to quit. Text HELP for help or call 877.571.0774 for support. To opt-out of alerts, text KEYWORD and STOP to 24609 (Ex. STOPWEATHER). Subscribers will receive no more than twenty messages per week when subscribing to any of our Alerts or Offers. No purchase necessary. Marketing text messages will be delivered to the phone number you provide at opt-in.
Approved carriers for texting 24609 are: Verizon Wireless, T-Mobile, Sprint/Nextel/Boost, AT&T, U.S. Cellular, Cellcom and Element Mobile. Sprint users may need to call their customer service representative to have the short code functionality activated on their cell phones. For questions or support, please call 877.571.0774.