« Shows & Personalities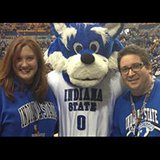 The Mix Morning with Nick and Kristen
On Air:

Weekdays, 6am - 10am

Hosts:

Kristen Flowers, Nick Steele
About the Show

Fun, live and local show that talks about the issues important in your life. Nick & Kristen are a positive, family friendly duo who love to laugh with you every morning.

Show Hosts

Kristen Flowers

I am originally from Orange County, California where I attended the South Orange County School of the Arts and then went to California State University-Fullerton where I majored in Radio/T.V./Film. I wanted to be a film critic but that all changed when I was required to take a few radio courses and from there I fell in love with the on-air world! I began my career in Los Angeles and from there I moved to Colorado, Las Vegas, Houston and now Terre Haute!

There are some facts that you need to know about me:

I am a huge Disneyland nut! I actually worked there while I was in college... and actually got a "verbal warning" for not smiling enough! I can give friends a Disneyland tour that Walt would be proud of!

I love my two cats, Killer and Calie...and yes, Killer lives up to her name! She actually has "caution" stickers on her folder at the vet but I swear she is the sweetest animal ever when she is not being poked and prodded!

My favorite candy are Red Vines (Twizzlers are NOT the same!) and Hot Tamales. They both taste better with an ice cold Coca-Cola!

Some of my favorite music includes; John Mayor, Taylor Swift, Goo Goo Dolls, Matchbox 20, Dave Matthews Band and Maroon Five.

I have a few secret skills! I love tosing and play guitar. I know how to sew and knit. I am EXPERT scrap-booker. I am an aspiring author and I can quote every line from Kill Bill vol. 1 & 2!

Nick Steele

Coming Straight Outta Compton!" Ok, maybe not Compton but definitely from the southern California region. I was born in Los Angeles and raised in the city of sin, Las Vegas. It's not as cool as it sounds, if you're not 21 there really isn't anything that you can do except pretend that you're 21. I spent most of childhood playing in random casino arcades for hours and hours while my mom gambled, hoping that she ran out of quarters before I did.

I spent most of high school and college thinking I was going to be in the FBI but when given the chance to do radio (my first love) I had to go for it! Here's some career advice, attention grabbing things on your resume will get you noticed. I only got called in for an interview because the manager wanted to ask me why I had a Superman watermark on my resume. Mission accomplished!

After spending about 5 years on the radio in Vegas I cruised over to East Texas for a while, then Ohio and now I am here in Terre Haute (Nick is in the Haute! what what?!) The first thing most people notice about me (after they get past how sexy I am) is that I'm kind of a nerd. Been a Superman fan since I was 2 and I don't have any plans of stopping anytime soon. He is flying across my right arm AND the right side of my car (chicks dig nerds and cars).