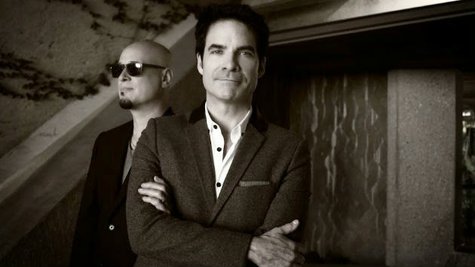 Train will promote their upcoming album Bulletproof Picasso with a performance on QVC Friday at 5 p.m. ET. During Train: Q Sessions Live, the band will perform their hits as well as new material, and viewers will get a chance to get some exclusive items.
QVC viewers who pre-order Bulletproof Picasso will also receive a bonus CD, exclusive to QVC. Called Train: Live in San Francisco, the disc features in-concert renditions of five of Train's biggest hits, including "Drops of Jupiter" and "Calling All Angels." In addition, QVC will be selling both six-bottle and 12-bottle packages of the band's latest signature wine, Bulletproof Picasso Sauvingnon Blanc. You can buy everything via QVC.com , or by calling 800-345-1515.
One of the songs viewers will no doubt hear Train perform on QVC this evening is "Angel in Blue Jeans," the lead single from Bulletproof Picasso. Train frontman Pat Monahan says it was difficult to decide on which song to release first from the album, because they're all so different.
"On the record, there's so many different places that these songs go," he tells ABC News Radio. "It was hard to figure out what's the first track people should hear and why, and it just made sense for us to, to start with that."
"It had a edgy Tarantino kind of vibe, so we built a movie around it," Pat explains, referring to the song's video , a mini-Western starring actor Danny Trejo and New Girl's Hannah Simone . The video features Trejo -- best known for the Machete movies and his role on Breaking Bad -- lip-synching the song of lost love while pistol-whipping Pat and getting the girl.
"This song definitely called for a Danny Trejo or a Danny Trejo lookalike," laughs Pat. "If Clint Eastwood would've been available we would've asked him. It was kinda that kind of a song."
Ironically, Pat says "Angel in Blue Jeans" started out as a completely different type of tune. For one thing, it was much slower.
"It was our attempt to do a Neil Young song," says Pat, referring to the legendary Canadian rocker known for his acoustic songs. "Then we added kind of a 'Drive By'-esque type of production to it."
"I think it worked out great," he adds. "'Cause I think our core Train fans really dig the song, and y'know, the next thing that everybody'll hear is, maybe, a more pop song."
Bulletproof Picasso arrives September 16.
Follow @ABCNewsRadio
Copyright 2014 ABC News Radio