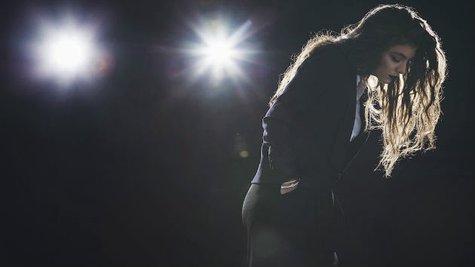 Lorde kicks off her U.S. headlining tour Friday night in Philadelphia, but right before she hits the road, she's given her fans a present: a sneak preview of the new song she's doing for the next Hunger Games film.
On Thursday night, Lorde tweeted a promotional image of the new movie, The Hunger Games: Mockingjay -- Part 1, which shows star Jennifer Lawrence facing away from the camera. She's clad in black leather, and she's got a quiver of arrows on her back and her bow slung over one arm. "I Am. I Will." reads the tagline. Lorde wrote, "this new mockingjay poster is so good. it makes me feel weirdly excited/proud to be involved with this film."
As previously reported, Lorde is curating the soundtrack of the new movie in addition to contributing an original song. She then tweeted, "hm.. when should i start giving you some clues about this new song.." and followed that up by posting a photo of a piece of paper with words written on it -- words we assume are the lyrics to the track.
"I'm a princess cut from marble/smoother than a storm," read the words.
According to the Asbury Park Press, Lorde recorded the new song in two marathon sessions -- one 15 hours long, one 14 hours long -- at a studio in Asbury Park, N.J. She was in town rehearsing for her new tour at the city's Paramount Theater; she left Tuesday, headed to Philadelphia.
You may recall that Lorde also contributed a song to the soundtrack of the most recent Hunger Games movie, Catching Fire: a cover of Tears for Fears' " Everybody Wants to Rule the World." The new movie opens November 21.
Follow @ABCNewsRadio
Copyright 2014 ABC News Radio