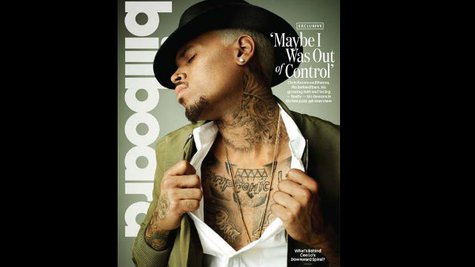 Chris Brown graces the cover of latest issue of Billboard magazine, in his first formal print interview since he was released from jail last June.
The singer candidly discusses various topics, ranging from redemption to being a role model -- to whether he foresees a time where his relationship with Rihanna isn't mentioned anymore, following his 2009 assault of her.
"When we're not relevant anymore, that might be the case," Chris tells the publication. "As long as you're doing something good, people will always bring up old stuff or negative stuff because they don't want you to surpass a certain level or elevate. But as long as you have your head on straight, it shouldn't matter what people want to say."
After spending 108 days in a Los Angeles county jail, Brown has learned a lot about himself: "My maturity level has risen as far as my realizing what's important," he says. "Realizing that I'm human like everyone else. At the end of the day, it's just a humbling experience. You're more appreciative of everything else that's on the outside. A burger tastes 1,000 times better when you're out."

The humbled singer adds, "I'm just more appreciative of the things I'm blessed with and the things I do: music, being able to take care of my family, being able to see my friends and family."
Chris is now looking forward to releasing his sixth album, X , September 16.
Follow @ABCNewsRadio Copyright 2014 ABC News Radio