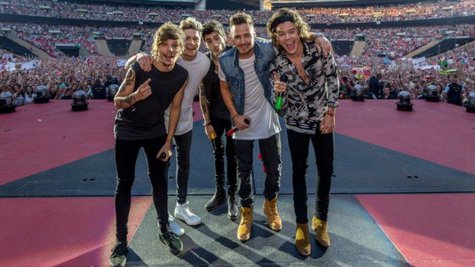 One Direction 's concert film Where We Are hits theaters next month, but you can get a preview thanks to a new trailer the band has released.
In the trailer, you'll see the band performing hits like "Story of My Life" and "What Makes You Beautiful" for stadiums full of screaming fans, goofing around, and commenting on their success. "This is definitely the biggest tour we've ever done," says Niall Horan . "Playing stadiums all over the world."
"We get this amazing feeling of excitement," adds Louis Tomlinson . "We're very lucky with our fans. They kinda take the pressure off us a little bit. You kinda feel like they've got your backs."
The movie will be in theaters for one weekend only: October 11 and 12. You can get tickets by visiting 1DConcertFilm.com.
Meanwhile, the British tabloid The Sun quotes Louis as saying that he feels the band are a bunch of poseurs who aren't even close, talent-wise, to the rock gods who've previously performed at the venues they're currently touring, such as England's Wembley Stadium.
"I feel like we've blagged it again," says Louis -- that's British slang for getting away with something, or talking somebody into something. He adds, "You look at the names of who's played at Wembley and you almost feel like you're not worthy of it. We just feel like we're just little scumbags."
Bandmate Liam Payne adds, "For people like us to be playing stadiums, it's just the biggest thing in the world."
Follow --ABCNewsRadio Copyright 2014 ABC News Radio