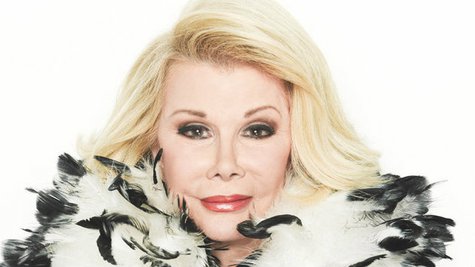 Following the death of comic legend Joan Rivers, both veteran music stars and newcomers took to Twitter to express their grief. Perhaps Katy Perry said it best, though: she tweeted , "What's the point of wearing all these dumb costumes if Joan's not here to rip them apart?"
"RIP Joan Rivers," she added. "You are a one of a one."
Here's a look at some other comments:
Jordin Sparks: " Oh, Joan. Thank you for being so kind to me & making me laugh until tears in those moments I got spend with you. Rest in peace."
Rob Thomas: " R.I.P. Joan Rivers. for all of you who don't know what a true bad ass she was check out this documentary." He then tweeted a link to her 2010 documentary, A Piece of Work .
Adam Lambert : " Goodbye Joan. You were a bright light till the end. What a beautiful life and grand career you shared with us all! RIP. ;("
Josh Groban : "RIP Joan. What a tough trailblazing lady. We've lost so much laughter this year."
Bret Michaels : "My deepest condolences to the family of @ Joan_Rivers . She was a very funny lady and will be missed. #JoanRivers "
Paula Abdul : "The world just got a little less funny. My sincerest condolences to the @ Joan_Rivers family. #RIPJoanRivers "
Boy George: " Goodbye my friend Joan Rivers. You were a huge part of my professional life and you brightened up the horizon with your Chutzpah!" Sad!" He also tweeted a photo of them together.
Ariana Grande : " rip Joan Rivers :'( the MOST fabulous and hilarious. [My brother] Frankie and I saw her live and met her multiple times together, we loved her so so much. Heartbreaking. Rest in peace Joan, u will be so missed!!"
Cher : "Am [heartbroken] About Joan. When I was young. I was going through a TOUGH TIME...& I Thought About Joan. She Had Told Stories About Her TOUGH Times, I Got [Strong]."
Anna Kendrick: " RIP Joan Rivers. Being publicly told that my dress is hideous will never feel quite as awesome. You will be truly missed."
Lance Bass: " Thanks for the laughs @Joan_Rivers ! The last woman to bed me!"
Bette Midler: " Joan Rivers has died. What a sad ending to a brilliant and tragi-comic life; one of the bravest, and funniest of all."
Duran Duran : "Very sad to hear about @Joan_Rivers . Always a friend to @duranduran . The Queen of camp, you will be missed." They also tweeted a video of themselves being interviewed by her.
Follow --ABCNewsRadio Copyright 2014 ABC News Radio