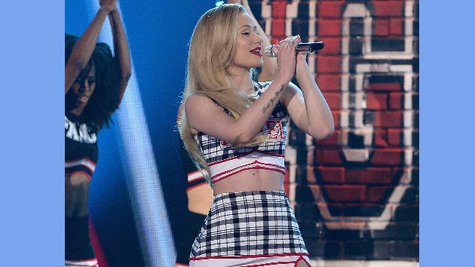 The last six months or so have been a wild ride for Iggy Azalea : her album debuted in the top five, her hit "Fancy" was #1 for seven weeks and was just officially crowned Billboard's Song of the Summer; she was named the host of MTV's House of Style , racked up two more top 10 hits with "Problem" and "Black Widow" and was honored with a parody by "Weird Al" Yankovic. Accordingly, her life is pretty hectic right now, but she says she handles it thanks to a special support system: her fans.
"I love them, they're like the little angel on my shoulder on the days that I don't want to keep kind of fighting or going," Iggy tells ABC News Radio. "They're always the ones that I say, 'I can't disappoint those guys...I gotta do it because they've been kinda vouching for me, and I don't want to disappoint them.'"
And while Iggy's fans like to tell her how her music affects their lives, the Australian rapper says that she gets just as much from them as they get from her.
"Some of them I follow, I go and I look and lurk [on] their Twitter pages secretly," she reveals. "And I want to see what they've got going on and it's nice to watch them grow, too, and see them achieve different things and to feel like, 'Aww, you tell me I helped inspire you to be motivated to do certain things in your life!' And I feel like that's a really cool thing to get to see happen."
Next up for Iggy: a performance on The Ellen DeGeneres Show with Rita Ora next Tuesday, and a variety of live dates, including appearances on Atlanta's Music Midtown Festival and the Austin City Limits Festival.
Follow @ABCNewsRadio
Copyright 2014 ABC News Radio