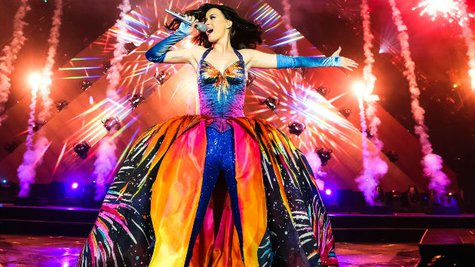 It's looking more and more like Katy Perry, Rihanna, Coldplay or whoever else the NFL wants to perform during Super Bowl halftime next year won't have to pay for the privilege of doing so.
As the Wall Street Journal first reported, the NFL had approached those three acts and offered them the chance to play halftime, with the caveat that they pay the NFL some of their future earnings. But Deadline reports that several unions have now gone on record as condemning that plan.
The AFL-CIO's Department of Professional Employees and the American Federation of Musicians are both against the idea of "pay to play," Deadline reports. "No one should ever pay to work. No organization should ever get a kickback from a worker they employ," said the AFL-CIO in a statement.
"The Department of Professional Employees, AFL-CIO, its affiliates in the entertainment industry, and the other unions, 22 in all, will stand with the AFM in condemning and will fight back against any attempts to make workers pay to perform," the group added.
Traditionally, the NFL does not pay its halftime performers, since the publicity an act gets from the gig is ostensibly worth more than any fee they could command. This year's halftime performer, Bruno Mars , attracted more viewers than the actual game did.
Previously, the president of the AFM told Deadline, "It's not like the NFL and its Super Bowl organizers don't have any money and can't afford to pay for halftime show performances; it's about the insatiable thirst for profits at the expense of great musical entertainment and those who create it."
He added, "You can find kickback schemes like this coming from unscrupulous bar and nightclub owners, but for the NFL to descend to such depths would be unconscionable."
Follow --ABCNewsRadio
Copyright 2014 ABC News Radio