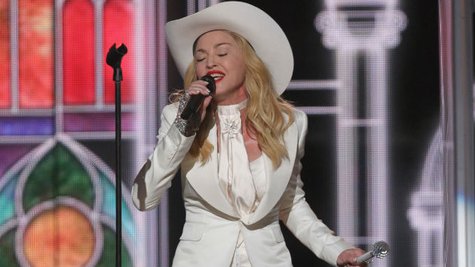 Has Madonna teamed with Apple to launch her new single? That's what some are speculating, after the website Digital Spy noticed a strange connection between the singer and Siri, Apple's voice-activated assistant.
For months now, Madonna has been using the hashtag #unapologeticb***h on her Instagram feed, leading fans to wonder if that's the title of the first single from her new album, on which she's been working for a while. Well, here's the thing: if you ask Siri to look up that phrase, it takes you directly to Madonna's Wikipedia page, even though that phrase doesn't appear there. The word "unapologetic" does -- once -- but not the "b" word, and not those two words together. If you use the voice-activated assistant on an Android phone, however, it'll just take you to a generic Google search results page.
While some fans feel this is evidence of a partnership between the Queen of Pop and Apple, others think it means that Siri is sampled on the song.
Meanwhile, the British paper The Sun claims that "Unapologetic B***h" is indeed the title of a song on Madonna's new album, and that its lyrics slam her ex-boyfriend, Brahim Zaibat .
The paper claims that in one lyric, Madonna disses Zaibat's sexual prowess, singing, "When we did it/I'll admit it/Wasn't satisfied," while another puts him down for not having any money: "I'm popping bottles that you can't even afford. I'm throwing parties and you won't get in the door."
Follow --ABCNewsRadio
Copyright 2014 ABC News Radio