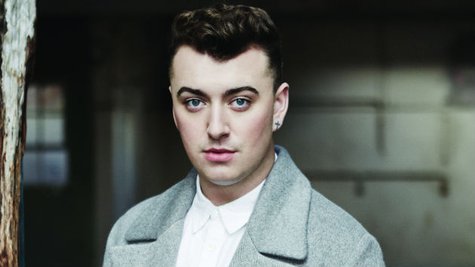 Since his appearance on Saturday Night Live earlier this year, Sam Smith has scored a hit album and a hit single, played to sellout crowds everywhere and duetted with Mary J. Blige . But he says now, he's achieved the ultimate accolade: Beyonce complimented his voice.
Sam tells the British paper The Mirror that when he was at the MTV VMAs last month, "Beyonce asked to meet me, so I went in and said 'Hi.' It was amazing: she took my breath away." He adds, "She said my voice is like butter, so I am done for life now. I don't need to do anything else."
The soulful Brit is amassing quite a celebrity fan club; in addition to Beyonce, he hung out with Kim Kardashian and Katy Perry at the VMAs, and Jennifer Lopez attended his pre-VMA show in L.A. last month and then came backstage to meet him. But Sam says he couldn't help feeling out of place the entire VMA weekend.
"It was a really odd experience," he says. "It felt like I was plucked out of secondary school and put into the VMAs. It was really random."
Sam kicks off a U.S. tour September 15 in Boston, but he says touring is draining because every night he's pouring out his heart onstage.
"One song is OK but a whole gig is tough," he tells the Mirror. "I tell people personal things in my songs which I don't tell anyone. I have said things which I don't even tell my mum. Honesty may be dangerous but it is the best way to be."
When his tour is over, Sam says he's getting back on a bus, but for pleasure, not for business.
"I'm planning to take time out, get on a bus and travel around America, visiting Detroit, Nashville and things like that," he explains. "I want to go there and write and soak up the music a bit more. I keep trying to make plans for my second record but I realize I have got to live it, kiss some people and fall in love."
Follow --ABCNewsRadio
Copyright 2014 ABC News Radio