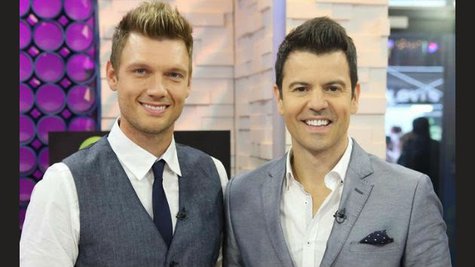 It's boy band heaven! Nick and Knight, the joint album project from Backstreet Boy Nick Carter and Jordan Knight of New Kids on the Block , just arrived in stores, and Nick says the combination of his and Jordan's musical interests makes for a unique listening experience.
"We both come from different worlds when it comes to the type of music that we like," Nick tells ABC News Radio. "I mean, I like a little bit of pop, rock...but I love everything. We love everything. We're music guys, so when we put all these things in a pot and stir it around, I think you're gonna get something special and different that our fans have never heard before."
Trying to describe the album's sound, Nick adds that it delivers "something funky, something pop, something rock...you know, just Nick and Knight."
Nick and Jordan, who knew each other back in Orlando, Florida even before their respective groups became famous, are also launching a joint tour, starting September 15 in Nashville, Tennessee. "Obviously me and Nick have never done a show totally together, start to finish, before. We're gonna do songs together," Jordan tells ABC News Radio about what fans can expect.
"We'll do some solo songs," he adds. "We feel like the fans will really love that. And Nick's really great at the guitar. I play the piano. And I think there'll be a section in the show where we kinda break it down and just kinda go real acoustic and make it really intimate. There'll be that aspect as well."
If you can't get a ticket to see the Backstreet Boy and the New Kid live and in person, you'll be able to see them on Nick's new reality show, I Heart Nick Carter , which debuts next Wednesday on VH1. The series is actually about the relationship between Nick and his then-fiancee, now wife, Lauren Kitt , but Jordan appears in the show as well, and he tells ABC News Radio why it's worth tuning in.
"It's great to be a part of reality shows that have a positive ending and have a happy ending. Nick's is one of them," he explains. "It's a touching show and it does delve into his relationship with Lauren and how they overcome things and resolve things. And I think it's gonna be positive for people to watch."
Follow @ABCNewsRadio
Copyright 2014 ABC News Radio