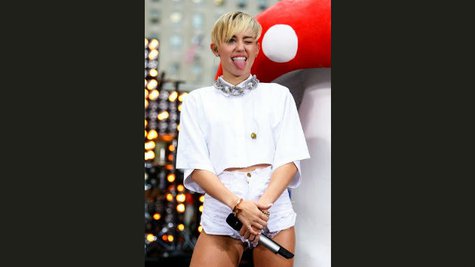 It's just like a real-life version of Footloose: the principal of a high school in Vermont has canceled the homecoming dance -- and according to her, it's all Miley Cyrus ' fault .
In a letter to the editor of the local Vermont paper The Bennington Banner , Sue Maguire , the principal of Mount Anthony Union High School, writes, "Over the past couple of years, since Miley Cyrus took the stage 'twerking' at the 2013 MTV Video Music Awards, our students' dancing behavior has crossed the line of what we can condone as appropriate behavior at a school."
"Twerking is dancing to popular music in a sexually provocative manner involving a low squatting stance and thrusting movements. Students do not face one another or remain with the same person for the length of the song. If you haven't seen twerking, I would encourage you to research this online," Maguire continues.
"As a school we are responsible to keep students safe and teach them how to interact with others appropriately," Maguire adds, noting, "One of the issues that emerges with this highly sexualized form of dancing is consent....we were told by students that...no one asks permission before 'grinding,' nor do they ask the other person if they want to dance."
"We plan on continuing the dialogue in hopes that we can work together to reinstate dances," concludes Maguire. "Unfortunately, our young people are continuously exposed to a culture filled with sexualized images and messages, but this should not and cannot be permitted at our school."
Follow --ABCNewsRadio
Copyright 2014 ABC News Radio