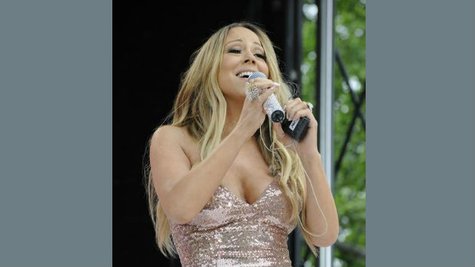 Last month, Mariah Carey parted ways with her manager and longtime collaborator Jermaine Dupri . Now, the hitmaker is dispelling rumors that he was fired due to the disappointing sales of Mariah's latest album, Me. I Am Mariah…the Elusive Chanteuse .
In an interview with Vlad TV , JD insists it was his decision to walk away from his management role, adding that most people assumed that Mariah let him go. "People think in their minds that that's exactly how it has to happen," Dupri said. "It just can't possibly be that Jermaine woke up one morning and didn't want to do it no more."
Dupri says he also stepped down in an effort to avoid losing his friendship with Carey, whom he jokingly claims to know better than does her now-estranged husband, Nick Cannon .
"I chose to do this because me and Mariah are friends, right? First and foremost. And we make hit records in the studio…This was the ongoing joke. I have a relationship with Mariah better than her and her husband. I've known her longer than her and her husband known each other," he says.
Speaking of Mariah and Nick, don't look to Dupri for any details about their marital woes. "I don't know nothing about that situation," he says.
Follow @ABCNewsRadio Copyright 2014 ABC News Radio