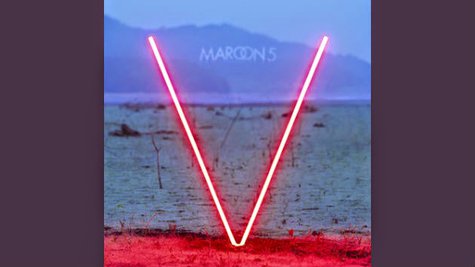 Maroon 5 's fifth album album, V, is in stores today, but if you're not sure whether the title is pronounced "Vee" or "Five," well, you're not alone. According to the band's guitarist, even the band's members weren't sure how to pronounce it when they came up with it.
"I pronounce it 'Five' but different people have been calling it 'Vee,'" James Valentine tells ABC News Radio, "because we named the album in an email chain. We were, like, throwing back ideas and nobody was really speaking them out loud, so I think for a while, none of us really knew who was pronouncing it 'Vee' and who was saying 'Five.' I say 'Five.'"
No matter what you call it, V arrives just over two years after the band's previous album, 2012's Overexposed, which is pretty speedy by Maroon 5 standards. As James notes, "The album came together so quickly and so effortlessly. We sort of blinked and the album was done."
As for why the band was able to turn around a new record so quickly, James says it's simple: they merely never took a break.
"We really never stopped recording after the last record," he explains. "We were constantly in the studio, constantly going back and forth with producers, sending ideas back and forth while we were still touring, which allowed us to do this sort of quick turnaround with the record. Because this record is out quicker than I think any record that we've done."
That's not entirely true, since Overexposed itself came out less than two years after the one before that, 2010's Hands All Over. Still, as James explains, the band didn't want to take a lot of time between projects, since they were on such a roll thanks to the success of Overexposed and hits like "Payphone," "One More Night," "Daylight" and "Love Somebody."
"Usually we'll take some time off, sort of chill out back in Los Angeles, [and] use the time that we're making the record as sort of a vacation from touring because we're touring so constantly," he tells ABC News Radio. "But this one, we were kind of like, 'OK, let's go. Let's do this. Strike while the iron is hot.' We had such a great string of success with those last singles we wanted to keep it going."
Maroon 5 and Adam Levine , together and separately, have plenty of TV appearances booked to promote the new album, including The Tonight Show on Tuesday and America's Got Talent on Wednesday, plus The Daily Show on Thursday, and The Ellen DeGeneres Show on September 8. However, the band likely won't launch a full tour until early in 2015 -- and James says he's psyched to bring the new music to the fans.
"I'm antsy to get out on the road and play these songs, and it seems like a long time in between releasing the record and doing that," he tells ABC News Radio. "But it'll be nice because the fans will be able to spend some time with the album before they come out, so they'll be ready with the new songs."
Follow @ABCNewsRadio
Copyright 2014 ABC News Radio