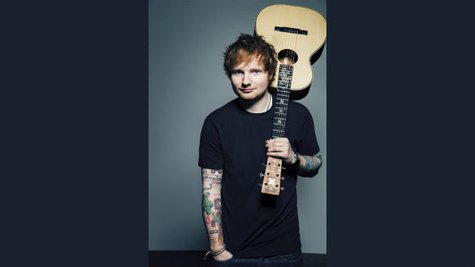 Ed Sheeran 's hit "Sing" is pretty danceable, but now it seems Ed's diving into the word of dance music full force. First, he told Billboard that he had recorded a song with top deejay David Guetta . Now, he's revealed that he's just recorded what he calls his "very first EDM song" with Martin Garrix , the producer who brought you the hit " Animals ."
Ed posted a photo of himself in the studio with Martin, and wrote, " Finished up my very first EDM song with Martin Garrix, brilliant experience, looking forward to you all hearing it ." It's not clear when that will happen, however. Martin also posted a photo of them together, and added the hashtag " #RewindRepeatIt ," which may or may not be the title of the collaboration.
In other Ed Sheeran news, is he considering proposing to his girlfriend? She works with celebrity chef Jamie Oliver , and according to the BBC, he's promised to cater Ed's wedding if the singer will perform at his annual food and music festival, which is called the Big Feastival.
"I promise I will do your wedding food if you come and play at Feastival next year. That's my one wish," the BBC quotes Oliver as saying, addressing Ed. He reportedly added, "I'm going to start begging now, officially, so Ed Sheeran, please come next year bro, I promise I'll cook for you. His girlfriend works for me and I haven't dared ask her yet because I don't want to push my luck."
Oliver also said that he "really respects and admires" Ed, and noted that "around 150" guests would be a good number for this future wedding meal.
Follow --ABCNewsRadio Copyright 2014 ABC News Radio