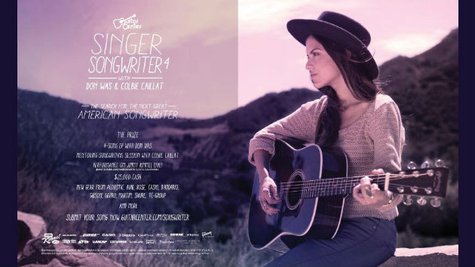 Hey, aspiring musicians! How'd you like to win 25 grand, get the chance to work with one of the most famous record producers ever, perform on TV and be mentored by Colbie Caillat ? All this could be yours, if you enter "Singer Songwriter 4," an annual contest sponsored by Guitar Center.
Here's how it works: starting now through November 2, you can submit an original live music performance video at GuitarCenter.com/Songwriter . Submissions will be ranked according to social media engagement, and the top 150 ranked artists will be reviewed by famed producer Don Was , who's worked with The Rolling Stones , John Mayer , Elton John and others. He'll handpick five finalists to perform live at the Troubadour club in L.A., and then one lucky winner will hit the jackpot.
The winner will get to record a four-song EP with Was in the studio, and Colbie will mentor them during the process. They'll perform on Jimmy Kimmel Live! , get thousands of bucks' worth of music gear free, be featured in American Songwriter magazine and receive a check for $25,000.
In a statement, Colbie says, "Taking a song and bringing it to life in a professional recording studio can be an intimidating process at first; I know it certainly was for me. So to be able to offer support and guidance to an emerging singer-songwriter is a huge honor. I look forward to playing a role in such an exciting time of someone's songwriting career."
Follow --ABCNewsRadio
Copyright 2014 ABC News Radio