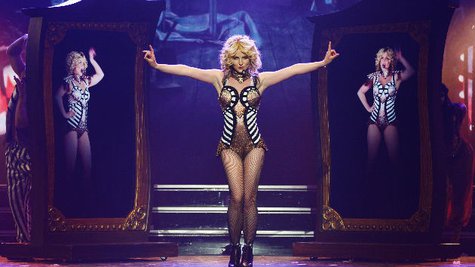 Britney Spears took time out from her Las Vegas show Sunday night to publicly address her recent split from her boyfriend of 17 months, David Lucado , according to MTV News .
"Well, by now everyone knows my boyfriend cheated on me," the 32-year-old pop diva declared, drawing spirited boos of support from the 5,000 fans at Planet Hollywood's Axis Theater.
Britney then continued, "But the best part of breaking up is going on first dates. OMG, OMG, I need a hot guy. Where are the hot guys here tonight?"
To the delight of the crowd, Britney pulled one lucky audience member up on stage, who turned out to be none other than celebrity gossip blogger Perez Hilton . Then, according to MTV, she produced an outfit of leather and chains and immediately slapped it on him.
Spears then launched into her song "Freakshow," while leading Hilton around the stage on all fours like a dog.
As soon as he returned to his seat, Hilton tweeted , ".@britneyspears just made me her b**ch - literally! Hope @Rihanna doesn't get jealous! It was like the Circus tour opening 2.0. #PieceOfMe"
Last Thursday, Brit tweeted , "Ahhhh the single life!" She posted that comment around the same time TMZ published a story claiming Lucado was videotaped making out with another woman last month. Reportedly, Brit dumped Lucado after learning about the footage, which TMZ reported was being shopped around.
Follow --ABCNewsRadio Copyright 2014 ABC News Radio