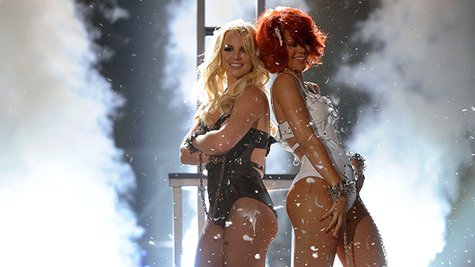 What's money to multi-millionaire pop stars like Britney Spears and Rihanna ? The two reportedly splashed out thousands of dollars -- separately, of course -- to keep their pets and their fingernails looking their best.
TMZ reports that according to new legal documents filed as part of her conservatorship, Britney spent over $13,000 in 2013 for two puppies: one of them cost $5568, while another set the singer back $8,212. Then, the papers say, she spent over $1,585 on clothes for the two pups, as well as more than five grand on dog-sitting services. Throw in regular pet expenses, like food, and Britney's pups cost her more than $31,000 in total over the past year.
As for Rihanna, she's been vacationing on a yacht in the Mediterranean, but a girl's gotta get her nails done. The British tabloid The Mirror reports that she spent over $9,900 to fly in her favorite British nail technician, Jenny Longworth , from the U.K.. The paper claims that Rihanna shelled out for first-class flights and accommodations so that Longworth could do her long acrylic nails.
A source tells the paper, "Rihanna is quite fussy and wants to be able to trust her glamour team. She's known Jenny for a while and loves her technique, so would prefer to pay for her to fly out to Italy than risk going with a stranger." The source adds, "Ri Ri's staff loves working for her, as they get to party like rock stars aboard an ­extravagant yacht, too."
Follow @ABCNewsRadio
Copyright 2014 ABC News Radio