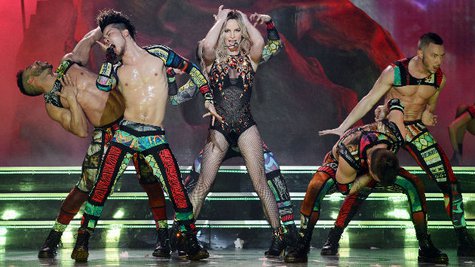 Britney Spears ' residency in Las Vegas has been more successful than anyone could've imagined: it's already grossed $20 million and is scheduled well into 2015. It's no wonder that the singer is in no hurry to go back to the old way of touring, when she was playing a different city every night.
Asked by Variety if she's eager to get back out on the road, Britney tells the publication, "Actually, no. I'm really happy with the way I'm set up right now, going to Vegas and coming back and having my foundation here [in Los Angeles]. I'm a home girl."
"I really don't see how I went all over the place and traveled the world and did everything," she adds. "I feel like I was out of my frickin' mind, and I did that for 15 years. But I was just so hungry and young and eager to pursue my dreams that it made sense then. It's really easy to lose track of where you are and what you're doing."
Luckily, Britney is still interested in making music, despite the disappointing performance of her most recent album, Britney Jean.
"In my off-time I do record," she tells Variety . "Once in a while I'll just go into the studio if there's a really good song that I have in my head and want to do. I think as artists you're constantly in creative motion. If I stopped writing songs then that's a part of me that would stop in my life."
"I'm definitely more in a creative space now," she adds, and one reason is because her Vegas schedule lets her spend a lot more time at home in L.A. with her sons. Says Britney, "You have more time to go there spiritually in your home with a piano than you would being in a hotel room."
Follow --ABCNewsRadio
Copyright 2014 ABC News Radio