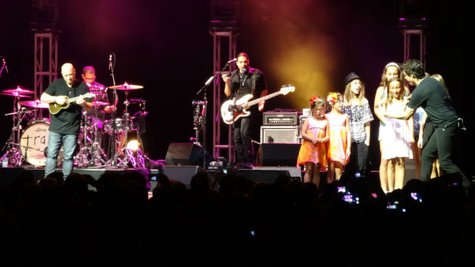 "Tonight is gonna be a lot of fun for us," Train frontman Pat Monahan told the crowd at Atlantic City, New Jersey's Borgata Hotel & Casino Saturday night. "Are you ready?" The enthusiastic crowd's answer was yes, and the band obliged by playing their hits, digging deep into their back catalog, and previewing one-third of their new album Bulletproof Picasso , due September 16.
The Atlantic City date was one is a series of one-off shows in the run-up to the special album release concerts Train plans to do in September in L.A., New York and San Francisco. Still, the band performed four tracks from the new album, including the anthemic title track, the current single "Angel in Blue Jeans," and two additional tunes: "Cadillac Cadillac" and "Wonder What You're Doing for the Rest of Your Life," which on the album is a duet with R&B singer Marsha Ambrosius . The band's two new female backup singers filled in for her onstage, and filled out the band's overall sound as well.
All the new songs were well-received and the band -- now a lineup of seven, including the two remaining original Train members, Monahan and guitarist Jimmy Stafford -- obviously enjoyed playing them, but of course, it was the hits that went over best with the crowd. Pat acknowledged this by introducing one of the new songs as something "we want to play before we play what you want to hear."
Opening number "Calling All Angels," plus "Drive By," "50 Ways to Say Goodbye," "Marry Me" and, of course, "Drops of Jupiter" were all greeted with wild enthusiasm by the fans; "Hey Soul Sister," the hit that revived Train's career a few years ago, featured Monahan singing with a group of adorable young girls who he'd pulled onstage.
In general, Monahan worked overtime to please fans: he grabbed their phones and took selfies during "If It's Love," had some female fans duet with him on "Bruises," and threw dozens of t-shirts into the crowd. He also, at various times, played sax and drums, and showed off his formidable vocal power by singing the emotional ballad "When I Look the Sky" nearly a capella, with no amplification on his voice. He constantly praised the New Jersey crowd as being "the best," and joked that they enjoyed playing the Borgata because after the show, they got to "spend every bit of money" at the gaming tables.
Train's set list also served as a reminder that -- despite their string of recent pop hits -- they began as, and remain, a rock band. Blistering versions of Led Zeppelin's "What Is and What Should Never Be" and Aerosmith's "Dream On" showed off those rock chops, as did performances of their debut single, "Free" and the album track "Mississippi."
Here's the set list for Train's Atlantic City concert:
"Calling All Angels"
"50 Ways to Say Goodbye"
"If It's Love"
"Get to Me"
"Meet Virginia"
"Bulletproof Picasso"
"When I Look to the Sky"
"What Is and What Should Never Be" (Led Zeppelin cover)
"Save Me, San Francisco"
"Free"
"Mississippi"
"Angel in Blue Jeans"
"Bruises"
"Marry Me"
"Wonder What You're Doing for the Rest of Your Life"
"Hey, Soul Sister"
"Drive By"
Encores :
"Cadillac, Cadillac"
"Drops of Jupiter"
"Dream On" (Aerosmith cover)
Follow @ABCNewsRadio Copyright 2014 ABC News Radio