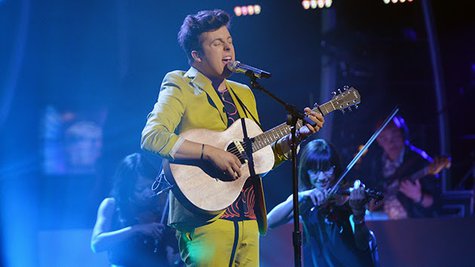 Alex Preston didn't win the most recent season of American Idol -- he finished behind winner Caleb Johnson and runner-up Jena Irene -- but he did gain some friends in the music business while competing on the show.
The New Hampshire native says he networked quite a bit, which he hopes will work to his advantage. He tells ABC News Radio, "I hope that I can utilize the contacts that I made to hopefully have a really collaborative album."
It was no secret during the season that Alex had become friends with Jason Mraz . During '80s week, Alex performed The Police classic "Every Breath You Take" after receiving feedback from Jason. The two also shared the stage on last week's finale, playing Jason's recently-released song, "Love Someone."
Alex says he plans on getting together with Jason either before or after the upcoming American Idol Live! tour to write music. He says he wants to create music that is "organic and kind of raw, but also radio-worthy and catchy." He points to folk-rock band Bon Iver as one source of inspiration.
Alex will join his fellow finalists for the American Idol Live! tour about a month from now. He's really looking forward to seeing his fans in person: "I always see what they say on Twitter and stuff, but I know a lot of them are coming out, so it's going to be awesome."
Follow @ABCNewsRadio
Copyright 2014 ABC News Radio