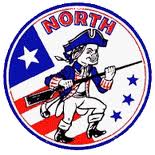 Terre Haute North had six regional champions Tuesday — including a meet-record running 1,600-meter relay team — in claiming the Evansville Central Regional for girls high school track Tuesday.
The 1,600 relay team ran a time of three minutes, 50 seconds to advance to the state finals. Lindsay Welker won the 800, DaShana Johnson won the 100 meters, Keirra Porter took the 100-meter hurdles title and the 400 relay team took home the Regional title and North's Brianna Burgess was second in discus.
TH South took third as a team as Nikkie Thiede and Katie Schmidt went 2-3 in the 3,200 to advance to the State Finals as well as the 3,200 relay team. Northview's Leeanna Knight took second in the long jump to reach the state finals.
They will next compete in the State Championships on Friday, June 6th.