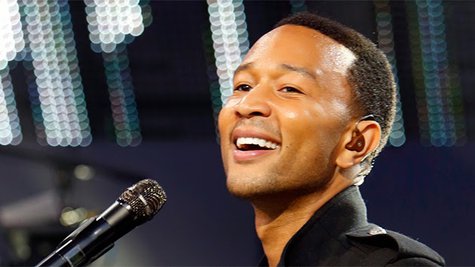 After years of trying, John Legend finally managed to hit #1 with his romantic ballad "All of Me." Though the song was just bumped from the top spot by Iggy Azalea' s "Fancy" after three weeks, John says he's enjoyed the ride.
You may recall that "All of Me" was the song that managed to replace Pharrell Williams' seemingly unstoppable anthem "Happy" at #1, where it had stayed for an amazing 10 weeks. "I was very happy," John tells ABC News Radio about his song's ascension to the top -- not even intending to make a pun. "I knew it was really close and I've been behind him, and we peaked around the same time and both started going down around the same time, too. But luckily, I was able to be a few points higher than him this past couple of weeks, and it's been great."
Even so, John doesn't look at it as him having "beat" his friend to the top spot. "Pharrell's so deserving of all the success he's had, too, and I'm glad we both had a really good year," John tells ABC News Radio.
Also thrilled with "All of Me's" success is John's wife, supermodel Chrissy Teigen , about whom he penned the ballad. "She was moved by it when I first sang it to her, and she knew it was about her," John says, when asked how she feels about inspiring a #1 hit. "I think she's proud of me, and then proud of the fact that our relationship has spawned this song."
John and Chrissy aren't the only folks whose lives have benefited from of "All of Me." Reality show contestants have been getting lots of mileage out of the song: both American Idol's MK Nobilette and The Voice's Josh Kaufman had big moments this past season on their respective shows performing the tune, and John appeared on the American Idol finale last week to sing it himself.
"It's very flattering to me as a writer, because, you know, when we write songs, we know we're going to sing them, but it's also nice that other people who love music and love to sing, love your song," John tells ABC News Radio of his song being a favorite on singing competitions. "And so it's been great to see the song on The Voice and American Idol and all the other shows."
Follow @ABCNewsRadio Copyright 2014 ABC News Radio