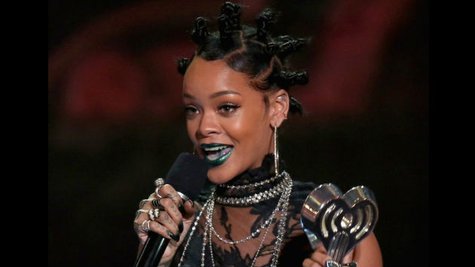 Rihanna has yet to reinstate her Instagram account, but she maintains her grip on the fashion world with her social media influence, according to designer Tom Ford .
Ford, recent recipient of the Council of Fashion Designers of America's Lifetime Achievement Award, says the social media influence of Rihana and other celebrities has supplanted traditional fashion reviews.
"Something new is happening that I'm just clueing into now -- this probably won't go down well --but customers don't care any more about reviews or hard-copy publications," he said during an interview with Style.com . "They care what picture Rihanna just Instagrammed while she's naked in bed, what new shoes she has on, how she's talking about them. That's what they respond to."
He adds that celebrities like Rihanna with a strong social media presence provide customers a more relatable voice.
"It doesn't mean I don't care about reviews, but today a lot of people who are reviewing are bloggers. There's no longer the hierarchy of an editor in chief on top who hires people with a knowledge and a history and an ability to write and disseminate that information to the rest of the population" he says. "Everyone has a voice now, so the person with the loudest voice is the one people listen to."
Follow @ABCNewsRadio Copyright 2014 ABC News Radio