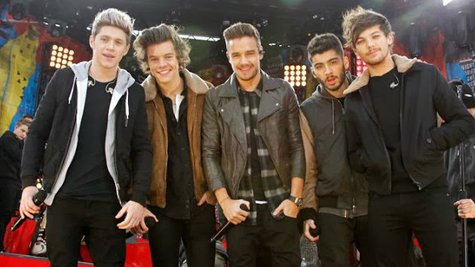 The U.K.'s Daily Mail has obtained video shot by One Direction member Louis Tomlinson of him and bandmate Zayn Malik passing around a "joint" as the pair are driven to a concert venue in Peru late last month.
On the video, shot in a smoke-filled van, Louis introduces the profanity-laced footage by saying, "So here we are, leaving Peru. Joint lit. Happy days!" He asks Malik, "What do you think about that kind of content?" referring to the hand-rolled smoke being passed about. "Very controversial," Zayn replies. One of the other occupants asks the pair if they're allowing "contraband" content on the video. "Yes, of course," Louis replies. "That's what it's about."
The pair's other bandmates, Harry Styles , Liam Payne , and Niall Horan , aren't seen in the van; presumably, the Mail suggests, they're in another vehicle on their way to Lima's Estadio Nacional, where the band performed on April 27 during their Where We Are tour.
The pair also seem to tease the cops who are apparently escorting their van as the stars wind their way through the streets. Through the van's tinted windows, Louis says of one of the cops, "Look at this b***h! He's having a look. He's thinking, 'I'm sure I can smell an illegal substance in there.' And he's hit the nail on the head.'"
Small amounts of marijuana are not illegal in Peru. However, the video -- regardless of whether the pair was indeed smoking pot -- might not go over well with the band's legions of young fans all over the world, or their parents.
Follow @ABCNewsRadio
Copyright 2014 ABC News Radio