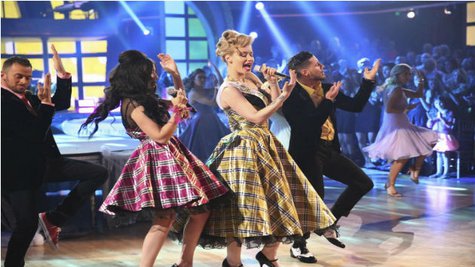 Iggy Azalea has achieved a rare milestone with her current hit, "Fancy." The song is now #1 on the Billboard Hot 100 chart , replacing John Legend 's "All of Me," which was on top for three weeks.
The Australian rapper is also featured on the #2-ranked song, Ariana Grande 's "Problem." She is just the second artist to occupy the top two spots on the Hot 100 simultaneously with their first two hits on the chart. The only other act to accomplish the feat is The Beatles . Not bad.
She expressed her excitement via Twitter. "Well I'm very pleased, last year seemed impossible to convince anyone in the music business I could break into the top 100. Haha," she wrote . "So let this serve as proof anything is possible & I hope we see more female rappers new and established in the charts. Dope stuff, thanks!"
Legend's "All of Me" rounds out the top three on the Hot 100.
On the Billboard 200 album chart , Phillip Phillips ' sophomore release, Behind the Light , debuted at #7, having sold 41 thousand copies. By comparison, his debut disc, The World from the Side of the Moon , sold 169 thousand copies in the week following its release in 2012.
The number-one album is Coldplay 's Ghost Stories , which tallied the biggest sales week of the year. It moved 383 thousand copies in its debut week.
Follow @ABCNewsRadio
Copyright 2014 ABC News Radio