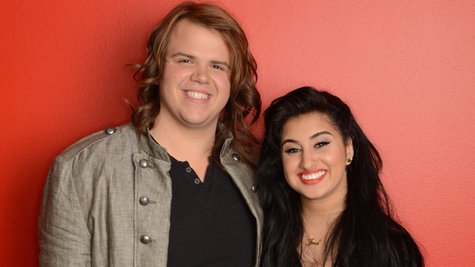 Exactly one week after being crowned the new American Idol champion, Caleb Johnson is headed to the prom. Caleb will escort runner-up Jena Irene to her high school prom not far from her hometown of Farmington Hills, Michigan, on Wednesday night.
The 23-year-old North Carolina rocker insists that Jena did not invite him as a joke. He further tells ABC News Radio he's looking forward to the event: "It's going to be a lot of fun, it's going to be awkward, it's going to be funny, we're going to have a blast."
Caleb says he's not sure if they will perform at the dance, but he adds, "Whatever happens, we'll go with whatever the energy is in the night and have fun."
After the prom, Caleb will turn his attention to his debut album, which will be released on August 12. He says he will start recording it in a week or so. Asked to describe the album, he replied, "It's going to be soulful, it's going to be heavy, it's going to be rock and roll."
Caleb says his recently-released single, "As Long As You Love Me," isn't representative of the sound he's going for with the album. He said "As Long As You Love Me" is a "campy rock song" that was intended more for the American Idol finale than anything else.
Caleb and Jena will join the other American Idol finalists for the annual American Idol Live! summer tour, kicking off June 24 in Binghamton, New York.
Follow @ABCNewsRadio Copyright 2014 ABC News Radio