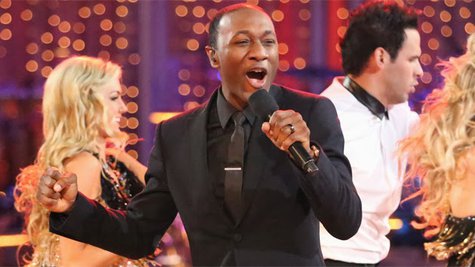 Fresh from his appearance on the American Idol finale, Aloe Blacc is hitting the road with Bruno Mars , opening for the Grammy-winner on the new leg of his Moonshine Jungle tour. It gets underway tonight in Fresno, California. Aloe says he's taking his role on the tour seriously.
"My goal, really, is to make sure that [the audience] is warm for Bruno. That's my job. And hopefully they'll go home remembering my name, and looking for more music," he tells ABC News Radio.
While he and Bruno hadn't previously met before he was invited on the tour, Aloe says, "I was just really honored that he would invite me to perform and tour with him. I think his band is fantastic and my band really loves what they do. So we're all very excited."
As for how he'll manage to hold the crowd's attention when they've all come to see Bruno perform his hits, Aloe says he's got a few of his own that he thinks the audience will like.
"I think I have a couple of lucky strokes with 'The Man' and 'Wake Me Up' and 'I Need a Dollar,'" he points out, referring to, respectively, his top-10 solo hit, his collaboration with Avicii , and his theme song for the HBO series How to Make It in America . "So there are songs they'll be familiar with already. And I've gotta just kinda sprinkle in other songs from the album and some covers that will keep them excited and interested."
Aloe will be on the road with Bruno through July 20, but here and there, he'll make some solo appearances at various festivals, such as Milwaukee's Summerfest in June, Philadelphia's Welcome America Festival on July 4, and Taste of Chicago in mid-July. After the tour ends, he'll head overseas for more festival appearances in England and Australia.
Follow @ABCNewsRadio
Copyright 2014 ABC News Radio