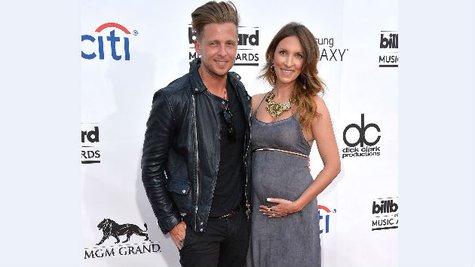 Ryan Tedder is a man with two jobs: he's the frontman for OneRepublic, and he's also a go-to songwriter for chart-topping acts, penning hits for the likes of Adele , Beyonce and Kelly Clarkson . But he says wearing two hats, as he does, puts quite a strain on his personal life.
Speaking to his hometown paper, The Denver Post, Ryan says, "Being the l ead singer of a band and writing stuff for other people is kind of an odd venture. I definitely didn't plan it that way and it's difficult to maintain. If anyone else wants to do that, be my guest, but you'd better have a patient wife. "
Evidently, Ryan does eventually manage to make time for his wife: the couple is expecting their second child.
Among Ryan's recent writing projects have been songs for Adele's next album, and U2 's upcoming disc. " We've collected a number of songs. I don't know which ones will make the album," he says of his work with Adele. " I think only she knows that. I know that some of them are great, and I'll try to come in and bring the best that I can, because an artist as good as she is deserves the absolute best."
As for Bono and the boys, Ryan says working with them pretty much trumps everything else. Asked if he feels any pressure going into sessions for high-profile acts, he says, " I just wrapped up a couple weeks with U2, so any level of pressure that I could possibly have I've already experienced at this point. The pressure drives me...I never stop writing, and when someone calls upon me to write something I'm already so immersed in that headspace that I don't panic."
Ryan and OneRepublic will kick off a big summer tour at Denver's Red Rocks on Wednesday. He says it's a dream come true for the group to play not one, but two nights at that famed venue.
" We used to dream about playing Red Rocks...and then we sold it out last year," he tells the Denver Pos t . "You can see the exponential growth between last year and this year. It's kind of hard to even believe for this band. We've worked hard for a number of years but it seems like only this last 12 months the dots have started connecting around the world. It's almost weird."
Follow @ABCNewsRadio
Copyright 2014 ABC News Radio