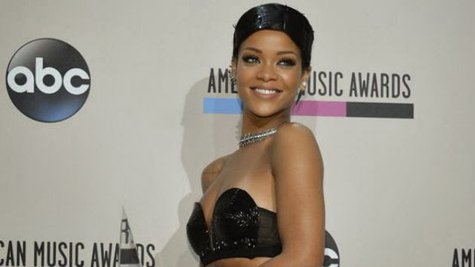 The "selfie" cellphone that Rihanna broke while sitting courtside at a Los Angeles Clippers game has turned into a museum piece.
Los Angels Police Commission President Steve Soboroff -- whose phone Rihanna dropped and broke while using it to take a selfie with him -- confirmed that the device has been donated to the Grammy Museum.
After the incident, Rihanna donated $25,000 to an LAPD charity and autographed the device so it could be auctioned to support police charities. The buyer recently donated the phone to the museum.

"On behalf of the Cadets and the Los Angeles Police Memorial Foundation, I am delighted that Rihanna's wonderful gesture of donating $25,000 plus her authorizing the sale of the 'selfie phone' resulted in the anonymous buyer turning around and donating the world's most famous selfie phone to the Grammy Museum for display to the public," Soboroff says in a statement,
Rita George , deputy executive director of the Grammy Museum, comments, "It's not often that we are able to obtain an artifact so quickly after it makes headlines. We're excited to welcome this interesting piece of pop culture into our permanent collection here at the Grammy Museum and we are even more excited to show our support for the Los Angeles Police Department and the great work that they do."
Follow @ABCNewsRadio
Copyright 2014 ABC News Radio