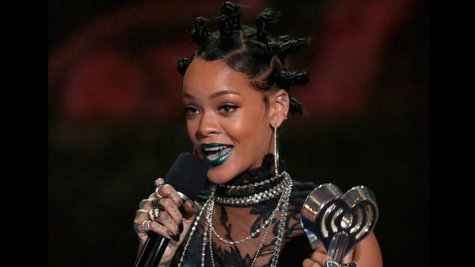 Rihanna has ruffled Charlie Sheen 's feathers. The actor lashed out at the singer after she reportedly rejected his request to meet his fiancée while dining at Giorgio Baldi in Los Angeles Wednesday night.
After being denied due to the amount of paparazzi waiting outside, Charlie scolded Rihanna via Twitter for not being courteous. He then thanked her for not agreeing to the meeting, claiming that he "couldn't pick her out of a line-up at gunpoint."
"No biggie for me; it would have been 84 interminable seconds of chugging Draino and 'please kill me now' that I'd never get back," he wrote. "Sorry we're not KOOL enough to warrant a blessing from the Princess. (or in this case the Village idiot)."
Sheen also called her a "big ol liar" and criticized her pink hair writing, "Halloween isn't for a while."
"See ya on the way down, (we always do) and actually , it was a pleasure NOT meeting you," he said. "I'm guessing you needed those precious 84 seconds to situate that bad wig before you left the restaurant."
He then advised, "If ya don't wanna get bothered DONT LEAVE YOUR HOUSE! and if this 'Prison of Fame' is soooooooo unnerving and difficult, then QUIT, junior!" he said.
So how did Rihanna handle the criticism? She wrote on Twitter , "If that old queen don't get ha diapers out of a bunch…" She also told a fan, "To think that I went there to have dinner in peace like I ALWAYS DO! Not once did anyone ask to meet me or take pix, I didn't even know this old man was in there!"
Later, Sheen responded to Rihanna's "queen" comment on TMZ . "Firstly I want to thank you for recognizing me as Royalty. I'm flattered," he said. "And secondly; do the good Queen a favor and go tend to the dungeon in my Castle."
Follow @ABCNewsRadio Copyright 2014 ABC News Radio