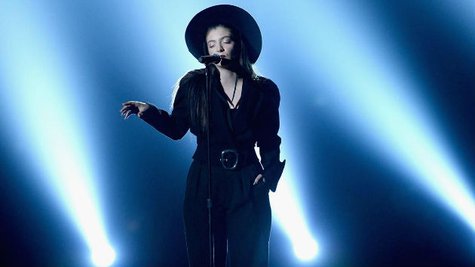 Lorde is usually pretty unapologetic about the decisions she's made, both artistically and career-wise. But in an interview with The New York Times , the 17-year-old singer reveals that she still feels bad about writing a song in which she said something negative about her mom.
"I reckon 85 percent of what I write is autobiographical," Lorde tells the Times . "But I struggle with being too honest. I remember writing a song when I was like 15, which was on my first EP, and it had the line, 'my mother's love is choking me,' because I'd had this fight with my mum."
Asked if that line upset her mom, Sonja Yelich , a noted New Zealand poet, Lorde replied, "Yeah, it's the one thing that she hears and she always feels kind of sad about. Even though I told her so many times, 'I didn't mean it, I'm sorry!'"
She adds, "It's intense, dealing with that sort of stuff, but always wanting to just be straight up and express exactly what you were feeling."
In the interview, Lorde also talks about whether or not she's nervous about making her sophomore album, since her debut, Pure Heroine, has been so critically acclaimed and commercially successful. "Sometimes I am, but also I think, like, there's just so much time between being 15 and being 18 or 19, which is how old I'll be when I'm releasing [it]," she replies. "I just think I'm so much better now."
Explaining why she feels she's "so much better," Lorde adds, "I've soaked up so many live shows, I've experienced so much more music. I feel like it's equipped me to write in a way which is more exciting to me. I think I'm going to be OK. I hope."
Follow @ABCNewsRadio
Copyright 2014 ABC News Radio