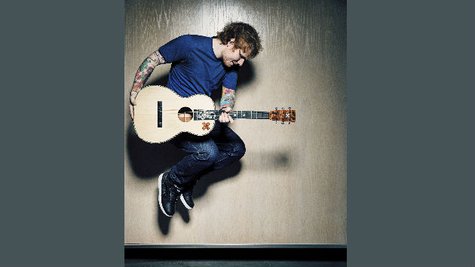 Ed Sheeran doesn't seem like a party animal, but he certainly turns into one in his brand-new video for "Sing" -- or at least, a puppet version of him does.
The clip begins with a shot of a pickup truck speeding erratically along the side of the road, knocking over boxes and other objects. When the truck stops, out steps a puppet version of Ed, complete with red hair and beard scruff.
Puppet Ed is unsteady on his feet -- possibly drunk, dazed or stoned -- and as he starts walking around, he flashes back to what he's gotten up to earlier that evening. We see Puppet Ed trying to pick up a woman in a bar, singing karaoke with a bunch of Japanese businessmen, luring a pack of hot women into a white stretch limo and then drinking and canoodling with them. We also see Puppet Ed in a strip club, throwing money around.
Eventually, the real Ed shows up, as does Pharrell Williams, with whom he wrote the song. At various points, Ed, Puppet Ed and Pharrell are all singing together, and we see real Ed and Puppet Ed boozing it up in a bar. Finally, we see the police pulling over Puppet Ed in the pickup truck, and then we see him posing for a mug shot. The clip ends with both Ed and Puppet Ed waking up in separate twin beds in a wreck of a hotel room, with what we assume are twin hangovers.
The video is currently available exclusively on Ed's Facebook page.
Follow @ABCNewsRadio Copyright 2014 ABC News Radio
Post by Ed Sheeran .