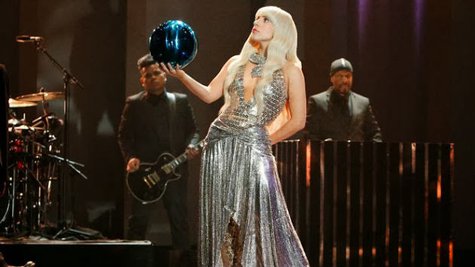 Lady Gaga doesn't talk a lot about her personal life, which is why she was cagey when asked by Extra where she sees herself in five years.
"Well, I'll be making music," the singer replied. When pressed by the interviewer as to whether she might be married, Gaga, who dates actor Taylor Kinney , said, "Will I be married? I don't know. I mean, I could be."
When further pressed on whether she might have babies, Gaga said, "In five years? I could be. I mean, who's to say, really? I mean, I haven't...I don't have my life planned out that way."
Then, turning the attention back towards her current projects, Gaga added, "I'm actually, more than ever, truly trying to live in the moment and really just enjoy this time right now...with my team, with my new puppy, with ARTPOP ."
In that same interview, Gaga said she's opposed to any artists who lip sync in concert. "I don't think it's cool to lip sync," she said. "I'm not judging if people do, because it's everybody's own style of what they decided to be, the type of artist they will be. But I think if you pay money for a ticket to see a show, the artist should f**king have some pipes and sing their records for you."
Follow @ABCNewsRadio
Copyright 2014 ABC News Radio
video platform video management video solutions video player