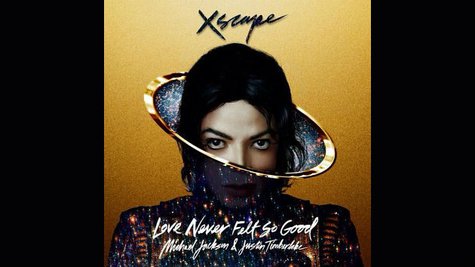 Michael Jackson 's new album XSCAPE may have failed to top the Billboard album chart, but the album's first single has managed to set a Billboard record.
"Love Never Felt So Good," MJ's posthumous duet with Justin Timberlake , has now jumped from #22 to #9 on the Billboard Hot 100, meaning that Michael has become the first artist ever to score top 10 hits in five different decades.
Michael's first top 10 appearance as a solo artist came in 1971, with "Got to Be There." He's hit the top 10 with songs in the '70s, '80s, '90s, '00's and '10s. Of course, the decade in which he scored the most top 10s was the '80s: he sent 17 singles into the top 10 during those ten years.
In addition, Michael has now set a record for the longest span on the Billboard Hot 100 chart: 42 years, six months and one week.
Billboard also notes that Justin Timberlake is now the fourth artist overall to score a top 10 hit duetting with Michael Jackson, following Paul McCartney , Siedah Garrett and Janet Jackson . Justin's also the only artist ever to have reached the Billboard Hot 100 by duetting with both Michael Jackson and Madonna , the respective King and Queen of Pop.
Follow @ABCNewsRadio
Copyright 2014 ABC News Radio