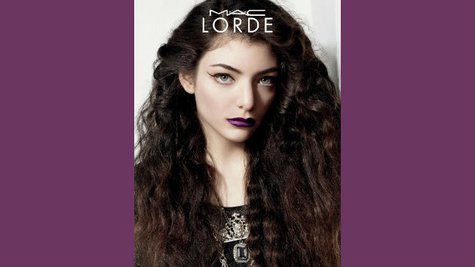 Lorde celebrated the launch of her new line of MAC cosmetics Tuesday night with an intimate New York City concert, reports USA Today .
The concert took place at MAC's studio in downtown New York, and the audience, according to USA Today , was "very, very carefully curated." Among the attendees: Kim Basinger and Alec Baldwin's daughter, Ireland Baldwin . A rep from MAC tells ABC News Radio that Lorde performed seven songs at the concert, including singles "Royals," "Team" and "Tennis Court," and album tracks like "Glory and Glore," "400 Lux" and "Ribs."
Speaking to Women's Wear Daily about the new limited-edition line, which includes a deep plum lipstick named Pure Heroine, and a black eyeliner called Rapidblack, Lorde said, "I'm a really big fan of MAC and have been since before I could really afford it. When they approached me, I jumped at the chance...I kept [the collection] short because I wanted to make the two products more important to me, that would be a good addition to anyone's makeup bag."
"It's rare that you find a brand that feels so perfect. I hate weird product placements and endorsements that feel uncomfortable," she added.
Noting that she herself was "very much involved" in the actual creation of the products, the 17-year-old told WWD, "Basically, everything to do with me, I'm doing. I would get bored just doing one thing. I have a very clear idea of what everything needs to look like, to sound like. And I'm really bad at delegating."
As for whether she plans to branch out into other aspects of beauty, Lorde said, "I don't know about a fragrance, because I think I would have to find a way to make that feel cool and authentic, make it feel like me...But I'd like to do more lipsticks."
Follow @ABCNewsRadio Copyright 2014 ABC News Radio