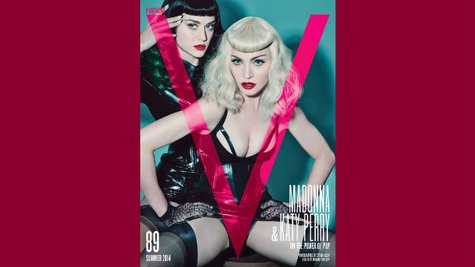 After releasing a few teaser images earlier this week, V Magazine has now revealed its new cover, featuring both Katy Perry and Madonna , and inside the mag, the singers reveal that the bondage-themed shoot left them both sore.
On the cover , Madonna is shown wearing a super-tight leather bustier showing plenty of cleavage; she's leaning over, and her legs are spread. Katy's posing behind her in what looks like a leather or rubber jumpsuit. Both women have their hair styled in bangs; Katy's hair is black and green.
The photo and the spread inside were both shot by Steven Klein , and the bondage theme continues: in one shot, Madonna's lying on a couch with her hands and ankles bound with rope; Katy's sitting in a chair holding the rope, and both women's eyes are closed. In another, Madonna's on all fours, and Katy's riding her like a horse, gripping a handful of her hair. "Coming at you like a dark horse," indeed.
"I was sore in my upper body and in my butt area from all that squatting," reveals Katy in the cover story , referring to the photo shoot. "It's good to be sore in your butt," Madonna replies. "My neck is sore from that wonderful moment when I was sucking on your heel." Sadly, that particular photo hasn't been posted online yet.
On the topic of being provocative -- and this photo shoot certainly is -- Madonna recalls, "I would always say, 'Dad, I'm an artist, I have to express myself. You don't understand.' I think he's finally come to terms with it. It's only taken 30 years. He's like, 'Do you have to simulate masturbation on the bed? Do you have to?' Yes, Dad, I do."
Katy replies, "I haven't gone that far yet, but maybe under your great mentorship I might reach that point."
The magazine hits newsstands Memorial Day, but you can read excerpts from the interview now, and pre-order it online.
Follow @ABCNewsRadio
Copyright 2014 ABC News Radio