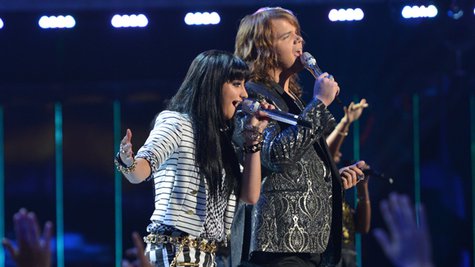 Caleb Johnson and Jena Irene went head-to-head in part one of the American Idol season finale on Tuesday night.
The 23-year-old North Carolina rocker and the 17-year-old Michigan resident had to deliver three performances: a selection made by American Idol creator Simon Fuller ; a reprise of a song from earlier in the season; and his or her debut single.
Keith Urban , Jennifer Lopez and Harry Connick, Jr. were there to offer their final critiques of the 13th season.
Here's a rundown of what happened:
Simon Fuller chose Florence + The Machine 's "Dog Days Are Over" for Jena Irene. Keith said Jena knows how to own the stage, though he noted her issues with breath control -- possibly due to the energy from the studio audience. J-Lo said it was a good start for Jena. Harry said "Dog Days" would be a great song for Jena to include on her album.
Caleb Johnson, who's still recovering from a vocal cord hemorrhage, was assigned Aerosmith 's "Dream On." He had no trouble reaching Steven Tyler 's signature high notes at the end of the song. J-Lo gushed, "That may have did it right there," inferring that Caleb could win the competition with a performance like that one. Harry wanted Caleb to maintain a strong energy throughout the performance, which he still felt was "phenomenal." Keith disagreed with Harry a little, saying he liked the way Caleb ramped up his vocals as the song progressed.
Round two began with Jena reprising her rendition of Elvis Presley 's "Can't Help Falling in Love," which previously inspired Jennifer to give her a kiss on the cheek a few weeks ago. There was no smooch from J-Lo this time around, but she remarked that she had "goosies" again. Harry said it was really beautiful. Keith noted that Jena's initial performance of the song was so powerful that it inspired "somebody else" to do it. That was a likely reference to The Voice contestant Christina Grimmie , who sang "Can't Help Falling In Love" on the NBC show earlier this week.
Caleb countered with Paul McCartney 's "Maybe I'm Amazed." Keith and Jennifer both warned him to not lose sight of the emotion in the lyrics. Harry polled his panelists on who was "winning" the night: the general consensus was Caleb took the first round, but Jena triumphed in the second round.
For her final performance, Jena sang her new single, "We Are One." Pressed for time, the judges kept their comments short and sweet. Jennifer said it was a nice finish for Jena. Harry said it sounded just as good as it did in the studio. Keith told Jena it was great.
Caleb responded with his single, "As Long As You Love Me." All of the judges spoke in general terms about how great of a night it had been. Harry, who repeatedly compared the show's finals to a boxing match, called Caleb " Joe Frazier " and Jena " Muhammad Ali ."
At the conclusion of the one-hour broadcast, the season's top contestants sang Kelly Clarkson 's "Breakaway."
The new American Idol champion will be announced on Wednesday night's two-hour results show, which begins at 8 p.m. Eastern time on Fox. The winner will record an album that will be released August 12.
The musical guests on the finale will include KISS , Paramore , Jason Mraz , John Legend , Demi Lovato and Darius Rucker .
Follow @ABCNewsRadio
Copyright 2014 ABC News Radio