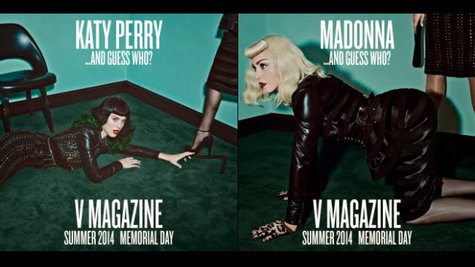 The Queen of Pop and one of today's reigning pop princesses have gotten together for a striking magazine cover shoot.
The summer issue of V magazine features both Katy Perry and Madonna , captured "in their element," according to the mag. A rep for the magazine tells us that the images currently displayed on the magazine's website are simply teaser images for the soon-to-be-revealed cover, or covers -- the rep coudn't confirm at this time. Nonetheless, the images are pretty provocative. They were shot by Steven Klein a nd styled by Arianne Phillips , who are Madonna's photographer and stylist of choice.
In one teaser image, Katy, whose hair is long, black and tipped with green, is wearing a bondage-style black leather metal-studded dress. She's lying on a turquoise carpet and reaching her hand out to grasp what looks like a whip, which is lying at the feet of an unseen woman. That woman is wearing a black striped skirt, black stockings and black pumps.
In a second image, that unseen woman is revealed to be Madonna : you can tell by the skirt. She's on her hands and knees on the same carpet, in an equally bondage-looking outfit and leopard-pattern gloves. An unseen woman holding the whip is off to the side, but we know it's Katy because she's wearing the metal-studded dress from the previous photo.
In the accompanying interview, the two stars talk about "the importance of being creatively liberated, in a celebration of music, fashion, and artistic freedom." In March, Madonna tapped Katy to be the guest curator for her ongoing Art for Freedom initiative. You can pre-order the summer issue now at VMagazineShop.com.
Follow @ABCNewsRadio Copyright 2014 ABC News Radio