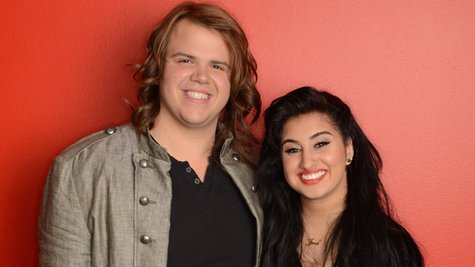 It's the Rocker vs. the Wild Card in the American Idol season 13 two-night finale, which starts this evening on Fox. Will it be Caleb Johnson or Jena Irene standing in that confetti shower on Wednesday night when the results are revealed? Judge Harry Connick Jr . says there's a strong case to be made for both performers.
Having previously auditioned for American Idol twice and failed to make the top 24, Caleb finally reached the top 10 this season and has won audiences over with his riveting performances of classic tunes by Led Zeppelin , Whitesnake and Paul McCartney. He's also never been in the bottom two the entire season.
"Caleb is a powerful performer," Harry tells ABC News Radio. "So just based on the command he has on stage -- if that were all he had -- he would have a pretty good shot, because it's powerful stuff."
"It's a strong weapon in a competition to come out [with]," Harry adds. "You're loud, you're a big presence, you play music that is normally is very powerful." But the judge adds that his performance ability isn't all that Caleb has. "He also happens to be a very talented singer and when you take all of that it's a recipe for success in a competition," he notes.
As for Jena, the teen from Michigan was selected for the top 13 as a wild card contestant. If she wins, she'll be the first ever wild card contestant to do so. Among past wild card contestants, only Clay Aiken made it as far as Jena has: all the way to the top two. Along the way, she's sung alternative rock, classic rock and dance-pop tunes. Harry says that kind of range makes Jena a formidable competitor.
"Jena has a lot of variety," says Harry. "She'll sing a ballad one week, very softly. She'll sing a rock and roll number, loud and big. She plays piano. She has interesting changes to the arrangements and the melodies."
"She can get big and loud when she needs to and she can break it down to nothing. And I think it's that variety that's probably her strong point," he adds.
Harry has confirmed he's returning as a judge for season 14 of American Idol . So what's been the most surprising thing about his first year behind the table? He says it's that he's been left to his own devices. "There's virtually no interference from anybody behind the scenes that would affect what I do," he tells ABC News Radio.
While many fans believe the show's producers tell the judges which contestants to praise and which to criticize in an attempt to affect the outcome, Harry says it's not like that at all. "It's almost impossible to believe, because it's such a huge show and there are so many people involved, and everybody has an opinion about what they think," he explains. "But they hired me to do what I do and they're allowing me to do it. And it's just been great."
Tonight, Caleb and Jena will compete for the last time, and on Wednesday, it's all about bringing in the big stars to either duet with the top 10 contestants, or simply perform. The list of acts who'll take the American Idol stage, either alone or with a contestant, include Lady Antebellum , Aloe Blacc , KISS , John Legend , Demi Lovato , Jason Mraz , Jennifer Nettles of Sugarland , Paramore , Darius Rucker , and American Idol season 11 champ Phillip Phillips . The big showdown starts at 8 p.m. ET.
Follow @ABCNewsRadio Copyright 2014 ABC News Radio