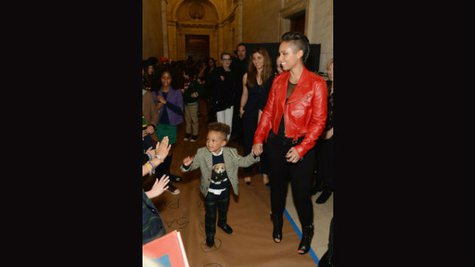 Alicia Keys and her husband Swizz Beatz proudly announced that their three-year-old son, Egypt Dean , recently walked his first runway show. The singer revealed via Instagram that her only child participated in the Ralph Lauren Fall '14 Children's Fa shion Show at the New York Public Library on Monday night.
The singer shared a picture of her son walking on the runway alongside the fashion mogul. "Egys first runway show!!!!! Wooooowwww!!!!! My lil baby!!!! #proudmamamoment !!! " she wrote in the caption.
Although Swizz was not present, due to his studies at Harvard University Business School, the producer expressed his joy on Twitter and posted a brief video on Instagram .
"Egypt said to tell uncle Kanye he's walking with that Ralph tho," Swizz tweeted . "He was feeling the vibes today:) Egypt X Ralph L # themdeanboys ."
Follow @ABCNewsRadio
Copyright 2014 ABC News Radio