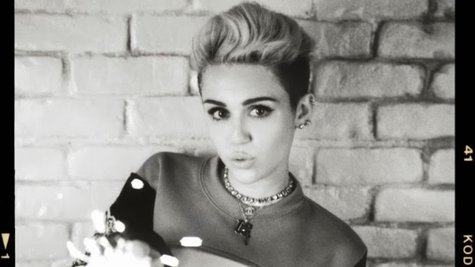 More than a month after losing her beloved dog Floyd , Miley Cyrus is still coming to terms with its death.
On Saturday, she posted a lengthy and rambling message regarding Floyd on Twitter. It opened, "Sad pupils are beautiful too...humans. We looooove to feel sorry for ourselves don't we."
She continued, "How many times have you laid in bed and cried when the sun is out shining, your loved ones are out laughing, and there are thousands of brilliant books to be read...but CHOOSE to lay in a bed and indulge yourself in sadness. today I am choosing to be that selfish human. There's nothing I want more than to lay and drown this pillow in my tears & think about all my shoulda, coulda, wouldas."
Miley writes that she keeps asking why the world would take her "sweet boy" from her, adding that she's still a "baby" who depends on her own mother.
She laments, "I was Floyd's mommy. I don't know when the regret and the guilt will fade...I don't know if it ever will."
However, she ends the note by saying, "Today I am being a helplessly hopeless human & I'm ok with that."
When Miley announced Floyd's death, on April 1, she tweeted, "I am broken." Her mom later gave her a puppy named Moonie , but she gave it up, stating, "It's just too soon for me right now."
Follow @ABCNewsRadio
Copyright 2014 ABC News Radio