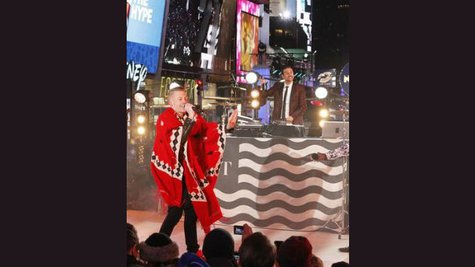 Macklemore & Ryan Lewis are going from the thrift shop to the museum: they've donated a bunch of their video props and costumes to a new exhibit at Seattle's Experience Music Project .
The exhibit is called "Spectacle: The Music Video ," and it traces the history of the medium. According to SeattleRefined.com , the Grammy-winning duo has a whole section devoted to them. Fans can see the fur coats worn in the " Thrift Shop " video, the wolf head hat from the " Can't Hold Us " video, the mariachi suit and hat from the " White Walls " video and the duo's MTV Video Music Awards trophies.
The reason that the duo has such a big presence in the exhibit is, of course, because Seattle's their hometown.
To celebrate the new exhibit, Macklemore & Ryan Lewis delivered a surprise performance Friday night at the EMP Museum. As seen in photos posted online by KOMO-TV , Macklemore wore a fake nose, a wig, and faux facial hair as the duo performed "Thrift Shop" and "Can't Hold Us."
Follow @ABCNewsRadio
Copyright 2014 ABC News Radio