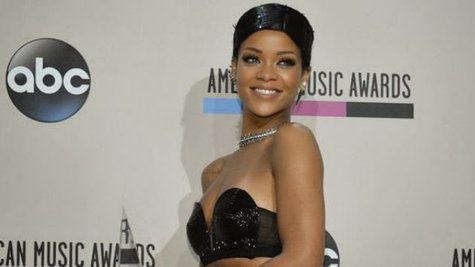 Alexis Carter was once a fan of Rihanna , but that changed once the singer poked fun at her on Twitter.
WBFF-TV reports the 16-year-old Baltimore resident wore an outfit for a Hollywood-themed prom that was modeled after a dress worn by Rihanna. It was green, with a plunging neckline and "wing-like" attachments.
Pictures of Alexis in the outfit later went viral, and they were mocked via the hashtag #PromBat. Even Rihanna got into the act; last week she posted a side-by-side shot of her in her dress and Alexis in her outfit. She also typed a frown face.
May 9, 2014
In another tweet , she compared Alexis' outfit to the Wu-Tang Clan symbol.
Alexis tells WBFF-TV she was offended, adding, "Why throw shade on it when you had on the exact same thing. The poses was [sic] different but the outfit wasn't."
In a separate conversation with E! News , Alexis says she threw her copies of Rihanna's CDs in the trash. She says she would like an apology "because [Rihanna] desecrated my name. Now everyone is bashing me."
Follow @ABCNewsRadio
Copyright 2014 ABC News Radio