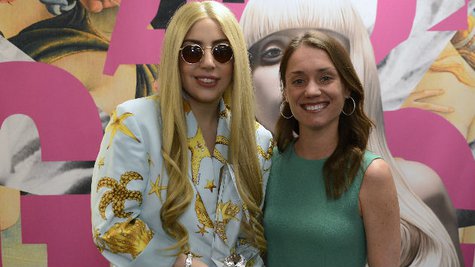 Lady Gaga 's "Bad Romance" has turned out to be very good news for her. The song has made her the first-ever female recipient of a prestigious Diamond Award for digital sales and streams.
The Recording Industry Association of America's Diamond Award certifies sales or downloads and streams of 10 million or more. Gaga was given the award earlier this week in Washington, D.C. when she was there for a concert on her artRAVE: The ARTPOP Ball tour.
In a statement, the RIAA said , "'Bad Romance' is one of the most popular and iconic songs of the last decade. We are honored to present Lady Gaga with a Diamond Award in recognition of 'Bad Romance' surpassing the ten million mark, and to congratulate her as the first female artist in Gold & Platinum Program history to earn a Digital Diamond Award."
Gaga tweeted her delight at the honor, writing , "The RIAA (Recording Industry Association of America) has given me & BAD ROMANCE a Digital Diamond Award. It is a very special award."
She added, "I'm the 1st woman in Gold & Platinum program history to pass the 10,000,000 mark with a digital song, they declared it iconic of the decade. Thank you RIAA! My monsters and I are so grateful for your recognition, and I share this award with them!"
Follow @ABCNewsRadio
Copyright 2014 ABC News Radio